Tensions intensified Thursday outside the passport office at Montreal's Guy-Favreau complex when hundreds of travellers who had been lining up for days for travel documents learned the system to process their requests had changed again.
Despite the federal government putting into effect a new ticketing system with fixed appointment times in Montreal on Wednesday, Service Canada workers threw passport-seekers for a loop Thursday morning by prioritizing people according to their flight time instead of their appointment time. 
"Our emotions are through the roof, we're trying to stay calm," said Antoinette Corbeil, who, like many, had been waiting in line for 36 hours in the rain. 
On Thursday morning some people had set up tents and tarps to shelter from the downpour as they waited for their passports. Portable toilets have been set up to facilitate the long waits.
As the office opened, Service Canada agents triaged each family in line, asking when they are flying and what stage their passport application was at. Those flying in the next 24 hours were prioritized, frustrating some people who have been in line overnight. 
"We organized ourselves last night in line with our numbers … and they're letting other people in in front of us. That's not fair," said Corbeil. 
Until the last few days, those waiting had taken matters into their own hands, implementing their own first-come-first-serve system to keep people from cutting in line. Police were finally called in to take over crowd control.
The fixed-appointment system brought in Wednesday left hundreds still going home empty-handed when just after 9 a.m. Service Canada workers announced the passport office had reached its capacity for the day.
Karina Gould, the minister responsible for passport services, has described the delays at the Guy-Favreau office as the worst in the country.
"It's absolutely insane. This is inhuman for us to go through this," said Corbeil.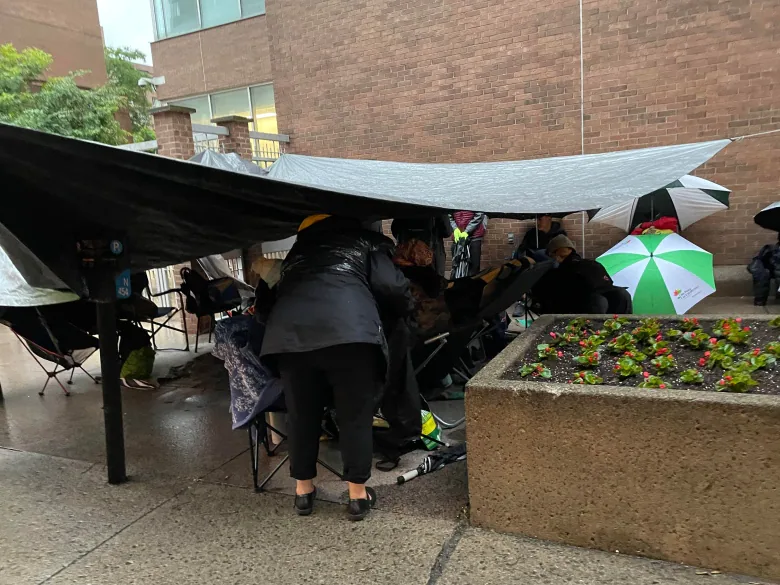 New triage measures
In a statement Thursday, Gould said while Service Canada has added staff, streamlined procedures and increased processing capacity to help deal with the…
Click Here to Read the Full Original Article at CBC | Top Stories News…