NEWYou can now listen to Fox News articles!
FIRST ON FOX: The U.S. Army restricted unvaccinated soldiers from engaging in any official travel without express approval from the upper echelons of the Army.
Fox News Digital exclusively obtained a pair of U.S. Army fragmentary orders (FRAGOs) from multiple sources detailing COVID-19 guidance issued on July 8 and 19, 2022.
The FRAGO orders issued on July 8 include a bolded update from June 16, 2022, that reminded soldiers of the guidance prohibiting unvaccinated soldiers, even those with or awaiting a vaccine exemption, from engaging in official travel without "prior-approval" from Army Under Secretary Gabe Camarillo.
DR. DEBORAH BIRX SAYS SHE 'KNEW' COVID VACCINES WOULD NOT 'PROTECT AGAINST INFECTION'
"UNVACCINATED SOLDIERS ARE NOT ELIGIBLE FOR OFFICIAL TRAVEL WITHOUT PRIOR-APPROVAL FROM THE UNDER SECRETARY OF THE ARMY," the June 16 update read. "From the Army G-1: This is a reminder to the field that IAW FRAGO 22 to HQDA EXORD 225-21, Soldiers who are unvaccinated for COVID-19 are not eligible for official travel (any travel on an order published by the government, including TDY, PCS, no cost PCS, low-cost PCS, and intra-post transfers) without prior approval from the Under Secretary of the Army."
"This requirement for prior-approval from the Under Secretary includes Soldiers who have an approved COVID-19 vaccination exemption (See Annex VVVV below), pending an exemption request or appeal, disapproved exemption request, or vaccine refusals," the update continued.
"As an exception, prior-approval for official travel is not required for travel related to separations and processing, retirement, redeployments, and HRC approved compassionate actions," it added.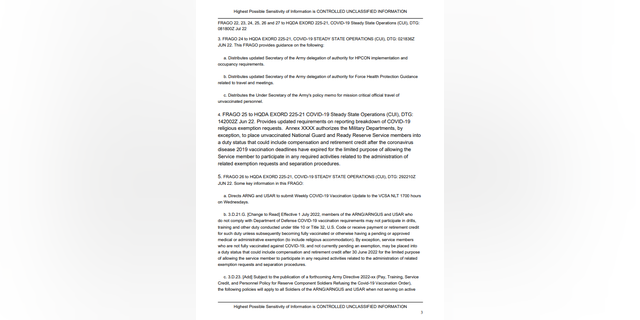 Click Here to Read the Full Original Article at FOX News : Politics…