IRYNA BALACHUK – FRIDAY, 23 SEPTEMBER 2022, 22:41
One of the Russian suicide drones shot down in Dnipropetrovsk Oblast on 23 September fell into a yard of a private house, causing a fire and injuring six civilians.
Source: Mykola Lukashuk, Head of the Dnipropetrovsk Oblast Council, on Telegram; Yevhen Yevtushenko, Head of the Nikopol District Military Administration, on Telegram
Quote from Lukashuk: "On the evening [of 23 September] [Ukrainian] defence forces shot down two [Russian] Shahed-136 suicide drones. One of the drones fell into the yard of a private house, causing a fire. Six people were injured, one of them has been hospitalised. Three outbuildings were destroyed, a private house and two cars sustained damage."
Details: The remnants of the second drone were found on one of the roads in Dnipropetrovsk Oblast; it damaged 100 square metres of road surface.
Lukashuk shared photos of sites where the Russian drones landed.
We have launched English Twitter! Follow us!
Meanwhile, Yevtushenko reported that Russian forces damaged 15 residential houses and eight outbuildings during the morning attack on the city of Nikopol, as well as 90 private houses, around 50 outbuildings, several shops and pharmacies, and gas pipelines and power lines in Marhanets. Two residents of Marhanets were killed, another nine sustained injuries.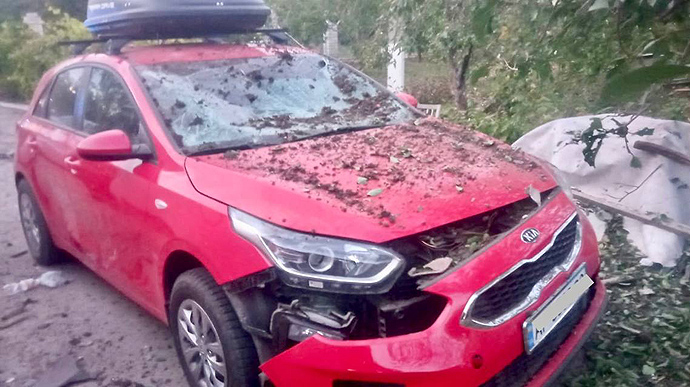 Background:
Earlier on 23 September, Air Command Skhid [East] reported that two Russian UAVs were shot down in the sky over Dnipropetrovsk Oblast.

On the morning of 23 September, Valentyn Reznichenko, Head of the Dnipropetrovsk Oblast Military Administration, reported that Russian occupiers blanketed the cities of Nikopol and Marhanets with rocket fire, killing two people.
Journalists fight on their own frontline. Become our patron, support our work! 
Click Here to Read the Full Original Article at Ukrainska Pravda…