Photography by Stéphanie Branchu/Netflix
Ahead of season three, we break down Emily Cooper's style rulebook and how to get the look for yourself.
Getting the "Emilycore" look showcased in Emily in Paris is pretty simple: think understated pieces, straight-cut silhouettes and versatile neutrals that capture the essence of Parisian chic.
Just kidding.
For two seasons, the Netflix dramedy has made headlines for its chaotic, impractical costumes – a reflection of the show's messy plotlines and clunky clichés. And through it all, the titular lead, played by Lily Collins, has earned a questionable sartorial reputation.
But for some, Emily's unapologetic ridiculousness is just what this world needs. The beauty of Emilycore lies in its escapism. Life is hard enough. Why not at least dress like you're living in a fantasy?
Created by legendary costume designer Patricia Field, Emily's wardrobe is comprised of eye-catching colours, prints, textures and shapes. It's an overwhelming oeuvre that perfectly suits her (sort-of insufferable) personality.
Read on to learn how to master Emilycore. Plus, snag a sneak peek at the exuberant outfits coming your way in season three.
Step one: Feel the rainbow
Turning every head in the room is très important. To do so, you must choose combinations that most people would never think — or dare — to wear. For Emily, there's nary a kitschy print or colour-blocking combo that's too tacky. Florals, checkers and stripes? A winning assortment. Layers of clashing neon hues? The more the merrier. In season three, we see our main character carry on this fashion philosophy in a rainbow sweater, metallic skirt and knee-high green boots.
Pro tip: When piecing together an outfit, ask yourself, "Do any of these things remotely go together?" And if the answer is no, then, voilà! You're Emilycore approved.
Step two: When in doubt, add another accessory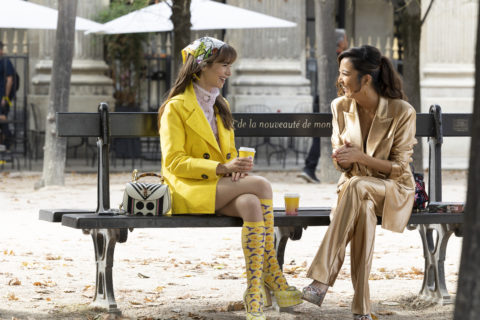 As Coco Chanel never said, minimalism is overrated. And according to the…
Click Here to Read the Full Original Article at FASHION Magazine…