NEWYou can now listen to Fox News articles!
A Florida state lawmaker is suing Gov. Ron DeSantis and other state officials for orchestrating the transportation of migrants from Texas to Martha's Vineyard in Massachusetts.
State Sen. Jason Pizzo, a Democrat who represents the Miami-Dade area, claims in a new lawsuit that relocating migrants from another state using Florida funds is an illegitimate use of those funds and violates Florida laws. The lawsuit also requests a judge to stop such relocations.
"This is very clear and straightforward," Pizzo said during an interview, the Miami Herald reported. "The governor had legislators carry and pass bills that were designed to suit his agenda and that he subsequently signed into law. And even with that completely privileged position, he still can't comply with the law. He set the rules for the game and then he can't follow them."
The Florida legislature previously approved $12 million in the state's transportation budget to relocating migrants who had entered Florida illegally. However, in the lawsuit, Pizzo, an attorney, argues DeSantis is not using those funds in the manner they were appropriated because he moved migrants who are not "unauthorized aliens" and who were not originally in Florida.
RON DESANTIS SENDS TWO PLANES OF ILLEGAL IMMIGRANTS TO MARTHA'S VINEYARD
The two planes of 48 Venezuelan migrants were flown from San Antonio to the ritzy Massachusetts island and only briefly landed in Florida.
Taryn Fenske, DeSantis' communications director, dismissed the new 15-page lawsuit and said Pizzo was simply seeking his "15 minutes of fame."
"Senator Pizzo never misses an opportunity for his 15 minutes of fame and is challenging an action on an appropriation he voted for," Fenske told the outlet.
The lawsuit also names Florida Chief Financial Officer Jimmy Patronis, the Florida Department of Transportation and Jared Perdue, the department's secretary.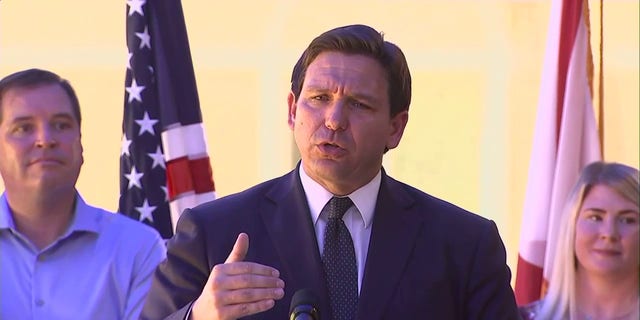 In a statement to the paper, Patronis noted Pizzo voted to pass the initial $12 million appropriation bill and said DeSantis' office was operating in compliance with it.
Devin Galletta, communications director for the…
Click Here to Read the Full Original Article at FOX News : Politics…