Democrat New York Gov. Kathy Hochul says rehiring unvaccinated health care workers is not the "right answer" despite the vaccination mandate being overturned and the state suffering from a major health care worker shortage.
"I don't think the answer is to have someone who comes in, who's sick, be exposed to someone who can give them COVID-19. I don't know if that's the right answer, but I'm pretty sure it's not. So, we're exploring our options," Hochul told local media Tuesday after being asked about bringing back unvaccinated health care workers. "But I think everybody who goes into a health care facility or a nursing home should have the assurance and their family member should know that we have taken all steps to protect the public health. And that includes making sure those who come in contact with them at their time of most vulnerability, when they are sick or elderly, will not pass on the virus."
NEW YORK SUPREME COURT REINSTATES ALL EMPLOYEES FIRED FOR BEING UNVACCINATED, ORDERS BACK PAY 
A reporter pushed back, asking Hochul if there were other precautions, like wearing a mask, to allow unvaccinated health care workers back into hospitals.
"I cannot put people into harm's way, because when you go into a health care facility, you expect that you're not going to come out sicker than you went in. I think that's something every New Yorker would expect," Hochul said.
NY DEPARTMENT OF HEALTH 'EXPLORING OPTIONS' AFTER JUDGE STRIKES DOWN COVID VACCINE MANDATE FOR HEALTH WORKERS
In a Jan. 19 letter, a group of 10 lawmakers expressed concern to Hochul about the severe staffing shortages they say have been exacerbated by the mandate.
"Decades of healthcare experience are being left on the sidelines or pushed into other states as a result of the mandate," the Republican lawmakers wrote in the joint letter. "This is even more noteworthy given that the U.S. Centers for Disease Control director has publicly stated that the vaccine cannot prevent transmission."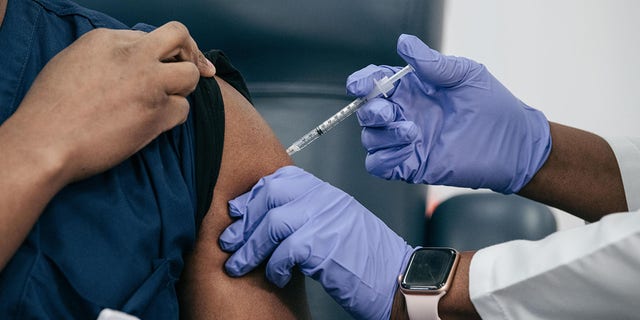 Click Here to Read the Full Original Article at FOX News : Politics…