Pope Francis has met a delegation from the Ukrainian Council of Churches and Religious Organisations (UCCRO) in the first such visit to the Vatican by a Ukrainian interfaith association. 
Source: Vatican News; Metropolitan Epiphanius, the Primate of the Orthodox Church of Ukraine, on Telegram 
Quote from Pope Francis: "I thank you for your unity: this, for me, is something great, like the children of a family – one here, another there, another over there, but when their mother is sick, they all come together. This is not so much about Jewish Ukraine, Christian Ukraine, Orthodox Ukraine, Catholic Ukraine, Islamic Ukraine…, no, it is about Ukraine, 'mother' Ukraine, for whose sake everyone is coming together! This is an example in the face of the superficiality seen in our culture today."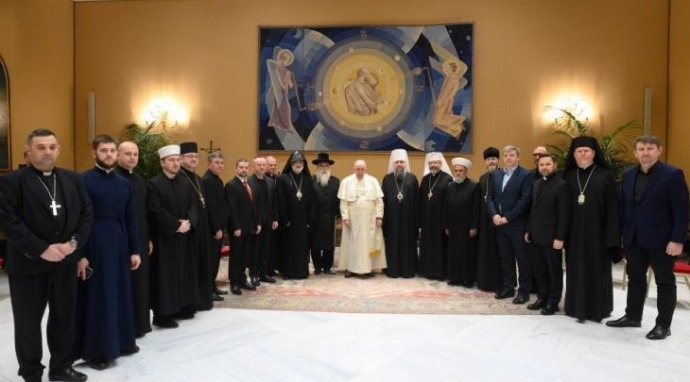 Details: The Primate of the Orthodox Church of Ukraine reported that during the meeting, the Ukrainian delegation had asked Pope Francis to continue his prayers for Ukraine and to fight for truth. 
The Pope assured them that he is praying for Ukraine. "Be in no doubt, I am praying for you! I carry you in my heart and I beg God to have mercy on these brave people [of Ukraine – ed.]!" he said. 
Journalists fight on their own frontline. Support Ukrainska Pravda or become our patron!
We have launched English Twitter! Follow us!
Click Here to Read the Full Original Article at Ukrainska Pravda…