House Republicans slammed the Democrats' effort to appoint Eric Swalwell and Adam Schiff to the House Permanent Select Committee on Intelligence, a move they said would have created a "national security liability," and a move that Speaker Kevin McCarthy ultimately rejected.
In a letter to McCarthy over the weekend, Democratic Leader Hakeem Jeffries had asked that the two "eminently qualified legislators" be reappointed to the committee despite Swalwell's association with a Chinese spy and Schiff's promotion of the Steele dossier.
"House Democrats are attempting to erode the important national security work of the Intelligence Committee," House Republican Conference Chair Elise Stefanik, R-N.Y., told Fox News Digital Tuesday, before House Speaker McCarthy acted to keep Swallwell and Schiff off the panel. 
"Eric Swalwell is a national security liability compromised by the Chinese Communist Party after he engaged in a years-long relationship with a suspected Chinese spy.
MCCARTHY VOWS TO REMOVE SWALWELL, SCHIFF, OMAR FROM HOUSE COMMITTEES
"Clearly, he has no place serving on the committee in charge of America's top secrets, but House Democrats are shamefully looking the other way," Stefanik added. "House Republicans put an end to Shifty Schiff's regime over weaponizing this committee for his partisan purposes, and we will use this committee to strengthen our national security and provide critical oversight of our nation's intelligence to restore Americans' trust in these agencies."
Rep. Mike Gallagher, R-Wis., who is the chairman of the newly formed House Select Committee on Strategic Competition between the United States and the Chinese Communist Party, recently noted that the House speaker has "enormous latitude" for making a case to bar Swalwell and Schiff from the intelligence committee.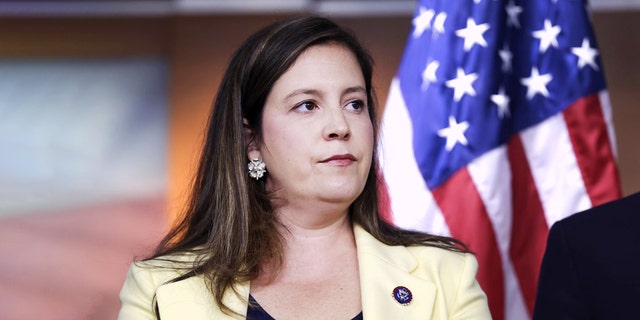 "When it comes to the Intelligence Committee, the speaker has enormous latitude," Gallagher said…
Click Here to Read the Full Original Article at FOX News : Politics…