Swifties and Ticketmaster are apparently, never, ever, ever, getting back together.
Or maybe, after the debacle Taylor Swift fans suffered trying to purchase seats for her tour, you could say there is "Bad Blood" between them and the ticket industry. 
The puns and plays on Swift's canon rolled through a hearing this week by the Senate Judiciary Committee probing potential antitrust practices by Ticketmaster. The ticket giant dominates events ranging from concerts to sports. 
Ticketmaster and Live Nation merged in 2010.
TAYLOR SWIFT TICKETMASTER CRISIS SPARKS SENATE JUDICIARY HEARING; LIVE NATION AND SEATGEEK CALLED AS WITNESSES
"I believe in capitalism and to have a strong capitalist system," said Sen. Amy Klobuchar, D-Minn. "You can't have too much consolidation. Something that unfortunately for this country, as an ode to Taylor Swift, I will say we know 'All Too Well.'"
Klobuchar leads the Judiciary Committee's antitrust subcommittee after Democrats retained control of the Senate in the midterm elections.
"I had hoped as of a few months ago to get the gavel back," mused Sen. Mike Lee, R-Utah, of Klobuchar. "But she's 'cheer captain, and I'm on the bleachers.'"
That's a line from Swift's tune "You Belong With Me."
"Nice of Taylor Swift to have written a song about this very situation," Lee added. 
All I can say is that it's a good thing Black Sabbath never had issues with its tickets. Imagine the jokes senators could concoct surrounding Black Sabbath classics like "Fairies Wear Boots," "Sweet Leaf" and "War Pigs"?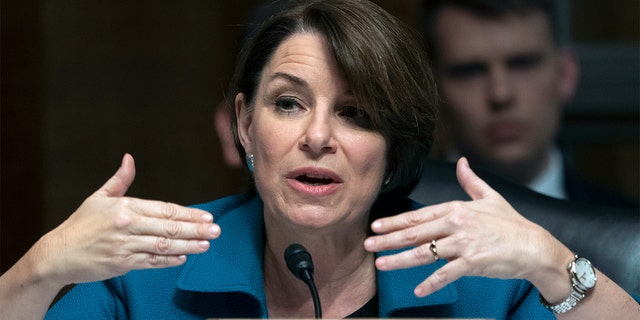 Perhaps I'm just being "Paranoid."
But back to Swift.
TAYLOR SWIFT BREAKS SILENCE ON TICKETMASTER FIASCO
Lawmakers credited the singer-songwriter and her acolytes for focusing attention on possible antitrust issues. A small contingent of Swift fans protested outside the Dirksen Senate Office Building before the hearing.
"As I was driving up this morning, I couldn't help but notice I'd never seen more smiling and happy demonstrators than I saw today," said Lee. "I think Swifties have figured something out, and they're very good at getting their message across."
"We apologize to the fans. We apologize to Ms. Swift. We need to do better, and we…
Click Here to Read the Full Original Article at FOX News : Politics…