FIRST ON FOX: The White House is firing back at a call by Texas Republican lawmakers to reimburse the state for border efforts in the state, pointing to efforts by the Biden administration to secure money from Congress that have met with Republican opposition.
"If you want federal funds for border security, maybe next time don't vote against federal funds for border security?" White House assistant press secretary Abdullah Hasan told Fox News Digital.
The Texas Republican delegation had written to President Biden this week, calling on him to reimburse the Lone Star state for Operation Lone Star, by which the Texas government has surged resources to the border, built its own border wall and began bussing thousands of migrants to cities across the U.S.
"For the last two years, the State of Texas has been forced to take unprecedented steps to address this crisis," the 25 members of the GOP delegation, led by Reps. August Pfluger, Pat Fallon, Jody Arrington, Chip Roy and Tony Gonzales, said in the letter to Biden.
TEXAS REPUBLICANS DEMAND BIDEN REIMBURSE STATE FOR BORDER EFFORTS, SEEK MEETING ON ENDING CRISIS
Republicans have blamed the crisis on the Biden administration's rollback of Trump-era border policies. The Biden administration, in turn, has blamed Republicans for not funding border measures and for not passing a massive immigration reform bill introduced on Day One of the administration. Hasan, in his statement, was referring to the funding for border security in the FY 22 and FY 23 omnibus packages, which Republicans voted against, as well as a $4 billion request for additional funds for the border in December.
Fox News reported at that time that the funding, requested ahead of an expected end to Title 42 on Dec. 21 that was subsequently delayed, would have included funding for soft-sided facilities, migrant care, transportation, processing and the Emergency Food and Shelter program. 
FY 2021 saw more than 1.7 million migrant encounters, topped in FY 2022 with a record 2.3 million encounters. So far, FY 23 has exceeded those numbers for the same period last year, with more than 250,000 migrant encounters in December alone.
OVER QUARTER OF A MILLION MIGRANT ENCOUNTERS IN DECEMBER ALONE, CBP CONFIRMS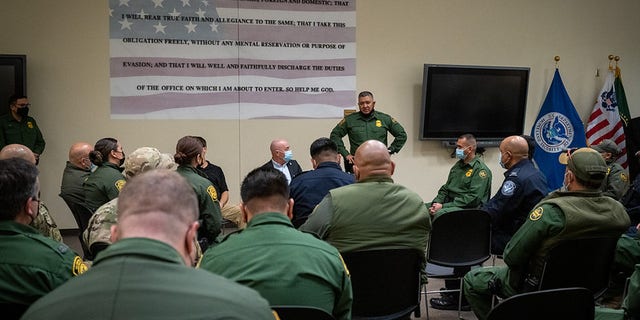 Click Here to Read the Full Original Article at FOX News : Politics…