Our iPhone and Android devices contain all kinds of secret features, and one of the best ones is getting to customize your text message keyboard. Both devices allow you to change your settings to make your messaging experience as fun and specific to you as you wish. Follow these step-by-step instructions to see how you can design your keyboard exactly the way you want it. 
CLICK TO GET KURT'S CYBERGUY NEWSLETTER WITH QUICK TIPS, TECH REVIEWS, SECURITY ALERTS AND EASY HOW-TO'S TO MAKE YOU SMARTER 
IPHONE 
What kind of keyboards are on my iPhone? 
The iPhone gives you one standard iOS keyboard for you to type your messages, but you can swap some settings around and add features such as typing in other languages, emojis, one-handed typing and more. 
How to add a language keyboard on your iPhone 
Go to Settings
Select General
Click Keyboard
At the top of the list, select Keyboards
Pick the language you'd like to add.
IPHONE HACK LETS YOU SEND SECRET TEXTS TO FRIENDS
How do I switch to an emoji keyboard on my iPhone? 
Open your iMessages and begin a new message or go to a previous message
In the bottom left-hand corner, select the smiley face icon
Select whichever emoji you wish to use by swiping left or typing in the search bar.
How do I enable the one-handed keyboard feature on my iPhone? 
Certain iPhone models are much larger than others, and it can be difficult to stretch your fingers that far while typing all the time. That's why the iOS15 update introduced the one-handed keyboard option to shrink the size of your keyboard and make it easier to type. Here's how to enable it: 
Go to Settings
Click General
Go to Keyboard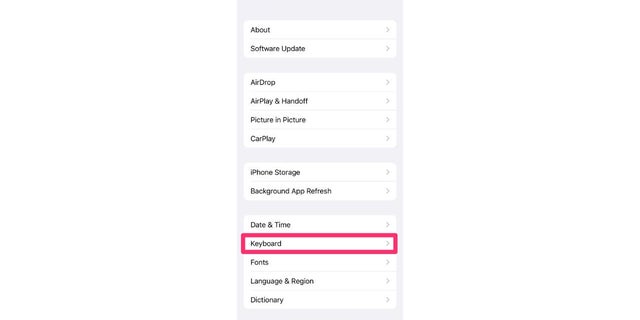 Select One-Handed Keyboard
Select whether you want your keyboard to appear on the left or right of the screen
Open your iMessages and start a new message to view how your keyboard looks. If…
Click Here to Read the Full Original Article at FOX News : Tech…