Saturday marks the 60th anniversary of the Supreme Court's landmark ruling in Gideon v. Wainwright, in which the justices unanimously affirmed a constitutional right to a lawyer for criminal defendants who could not afford one.
Much has been written about the case, which overruled an earlier decision and forced states to create taxpayer-funded public defender offices. Movies and documentaries have also been made.
Clarence Gideon was charged with breaking into a Panama City, Florida, pool hall on June 3, 1961.
The place was vandalized, and money was stolen from a cash register. A witness later claimed he had seen Gideon leaving the business at 5:30 a.m. with a wine bottle and money in his pocket.
SUPREME COURT REQUESTS EXTRA SECURITY FUNDING AFTER ALLEGED ASSASSINATION ATTEMPT ON CONSERVATIVE JUSTICE
Based on that account, he was charged with petty larceny and breaking and entering. He was denied a court-appointed lawyer in state court, represented himself, and was convicted.
Here are some of the key moments of the case in the words of those involved:
"Mr. Gideon, I am sorry, but I cannot appoint counsel to represent you in this case. Under the laws of the state of Florida, the only time the court can appoint counsel to represent a defendant is when that person is charged with a capital offense. I am sorry, but I will have to deny your request to appoint counsel to defend you in this case."

— Trial judge
"The United States Supreme Court says I am entitled to be represented by counsel."

— Gideon to the trial judge, Bay County, Florida courtroom, Aug. 4, 1961.
"Gideon seemed a man whose own private hopes and fears had long since been deadened by adversity – a used-up man, looking (15) years older than his actual age of (52). He appeared gaunt, a stooped 6 feet, 140 pounds."

— Anthony Lewis, author of "Gideon's Trumpet," a 1964 book about the case.
An appeal to the Florida Supreme Court was denied, so he launched another.
SUPREME COURT COULD TAKE FIRST TRANSGENDER SPORTS CASE WITH APPEAL FROM WEST VIRGINIA SOCCER PLAYER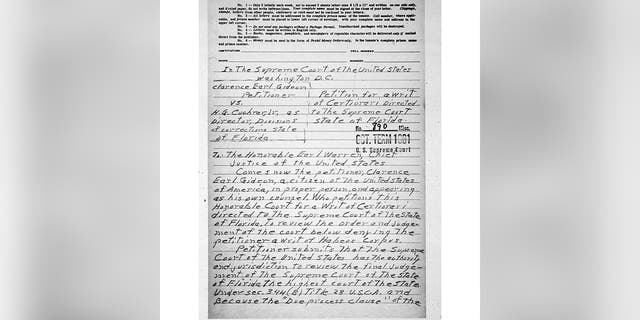 Click Here to Read the Full Original Article at FOX News : Politics…